We have large inside hot spring bath, out-side hot spring bath, and outside Jacuzzi bath.
We also have 3 different kinds of indoor bath in a private room.
There are Jacuzzi bath with panoramic view, marble bath and cypress wood baths.
Hakone natural springs water is very good for the skin care.

Large inside hot spring, men and women room are separated
Deep bath to be relax with the natural hot spring hot water.
You can also enjoy the view of garden though the window.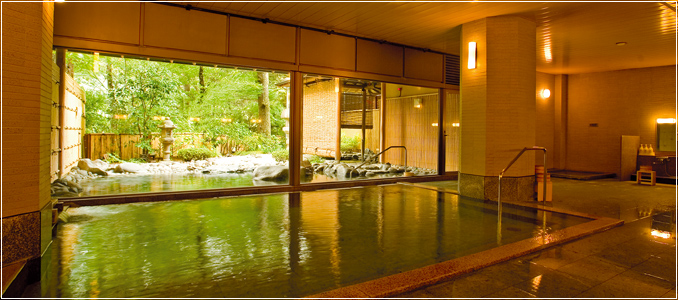 back to top

Out-side hot spring bath is constructed as a typical Japanese garden style.
There are two out-side hot spring, Miraku-no- yu and Kiraku-no-yu.
Enjoy large bath and garden in four seasons at one time.
back to top

Miraku-no-Yu has out-sided Jacuzzi bath.
Men and Women bath space exchange morning time and night time,
so you can enjoy both of the out-side bath.
back to top

There is a sauna room next to the large inside hot spring bath.
Sauna is known as making your body warm deeply. Perspiration makes your skin smooth and refresh.

Mild alkaline, good for: beautiful skin, feminine ailments, muscle pain, neuralgia, etc.

| | |
| --- | --- |
| Springs | Morning: 5:00 am - 10:00 am Evening: 3:00 pm - 1:00 am |
| Sauna | Morning: 6:00 am - 10:00 am Evening: 3:00 pm - 10:00 pm |
back to top